Written by
Roland Gift and David Steele
Date
1989
Source
The Raw and the Cooked
(Fine Young Cannibals album)
Publisher
EMI Virgin Music Inc.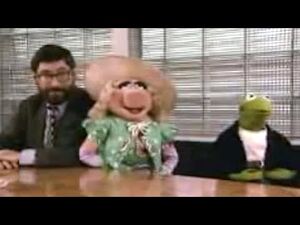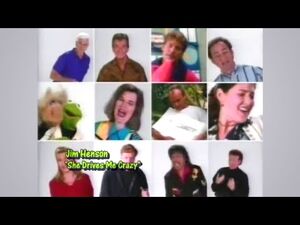 "She Drives Me Crazy," with the addition of parody lyrics by Jim Lewis, is performed by Kermit and Miss Piggy as the opening number on the Kermit Unpigged album. Piggy calls Kermit to talk about their relationship (after being connected by Ernestine), and both sing parts of the song. The number ends with Piggy hanging up on Kermit.
The 1994 "She Drives Me Crazy" music video, accompanying the album release of the song as a single, featured Kermit, Miss Piggy, Clifford, and a whole slew of celebrity cameos, including the following: Carol Alt, Shari Belafonte, Spencer Christian, Dick Clark, Katie Couric, Phil Collins, Gilbert Gottfried, Linda Gray, Ron Greschner, David Hasselhoff, Heavy D, Helen Hunt, Casey Kasem, Ricki Lake, Denis Leary, Little Richard, Joan Lunden, Joseph Marcell, Demi Moore, Matthew and Gunnar Nelson, Leslie Nielsen, Ozzy Osbourne, Conan O'Brien, Kevin Pollak, Paula Poundstone, Paul Reiser, Grant Show, Harry Smith, and Bruce Willis.
The producers were so eager to get celebrities to participate in the "She Drives Me Crazy" video that Phil Collins' cameo was taped in a hotel room, and Bruce Willis and Demi Moore were "invited to contribute segments on location."[1] As it turned out, the footage of Willis and Moore appears to have been shot in their kitchen, with the stars dancing around to the tune playing on a radio.
Two alternate versions of the video exist: one featuring a "story" frame of Piggy and Kermit previewing the video, with John Landis as the director and Fran Drescher as a record executive, and a UK-version in which some of the US-American celebrities were replaced with British celebs.
Sesame Street featured a spoof, "C Drives Me Crazy", by Fine Young Camels.
Sources
Community content is available under
CC-BY-SA
unless otherwise noted.