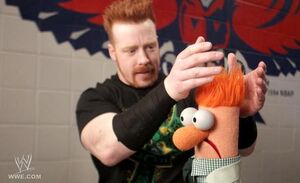 Sheamus (born Stephen Farrelly, 1978) is an Irish professional wrestler with the WWE. Among his many accomplishments he is a two-time Intercontinental Champion and two-time WWE Champion.
Seamus appeared on WWE Raw with Beaker on Halloween 2011 as part of a promotion for The Muppets. Coming to the aid of Beaker, Seamus reveals that he is in fact a relative of Beaker and will be unable to attend the upcoming family reunion, but Beaker is to tell Aunt Teresa hello. (YouTube)
Sheamus' red hair has been the subject of a few Beaker jokes on WWE, including an April 24, 2010 episode of Raw where John Cena said that Sheamus was moonlighting as Beaker with a chip on his shoulder. Another episode on August 30, 2010 featured Edge telling Sheamus he can go back to the lab with Dr. Bunsen Honeydew and then started meeping at him.
External links
Community content is available under
CC-BY-SA
unless otherwise noted.