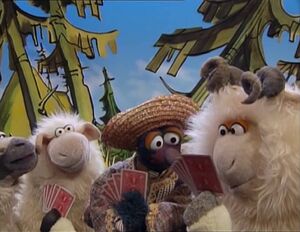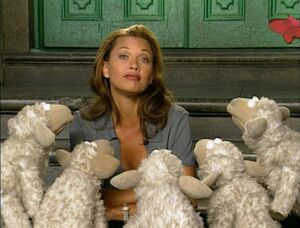 Sheep are wool-bearing mammals and a lynchpin of the textile industry. They traditionally gather in flocks, and must be carefully herded. In nursery rhymes, they are said to follow their owners to school, and come home wagging their tails behind them.
An assortment of sheep, including rams and lambs, were featured on The Muppet Show. The first one debuted in the U.K. Spot "Is This the Old Sow" on episode 415 of The Muppet Show, while more sheep made their appearances on episode 417, during the song "Rama Lama Ding Dong." During the Muppet News Flash for episode 418 a "killer lamb" that had escaped from the zoo attacked the Newsman, and another falls on him (following Mary) in a Disney Xtreme Digital short.
Smaller, cuter sheep have been a staple of Sesame Street. They've frequently been used in such songs as "Dance Myself to Sleep," and in multiple skits with Count von Count. On Little Muppet Monsters, they've appeared on an unaired episode where Tug conducts the animals. While most of these are small and lamb-sized, exceptions have occurred, notably Meryl Sheep.
Sheep Index
See also