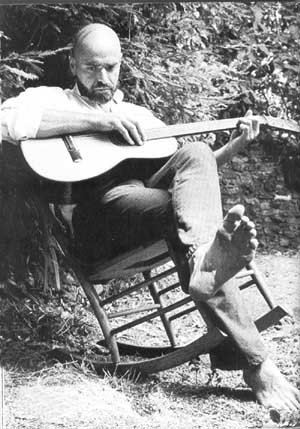 Shel Silverstein (1930 - 1999) was an American author, singer/songwriter, cartoonist, illustrator, and poet. Among his most well known children's books are The Missing Piece, A Light in the Attic, Where the Sidewalk Ends, and The Giving Tree.
In addition to recording several solo albums, Silverstein was an Academy Award nominated songwriter for Postcards from the Edge (with Meryl Streep). Silverstein wrote many hits for other artists including "Boy Named Sue" for Johnny Cash, "Cover of the Rolling Stone" for Dr. Hook and the Medicine Show, and "One's on the Way" for Loretta Lynn, which she performed on episode 308 of The Muppet Show.
Silverstein wrote two other songs which were performed on The Muppet Show -- "You're Always Welcome at Our House", which was performed by Marisa Berenson, and "Put Another Log on the Fire", by a Hillbilly Singer with Candice Bergen.
Silverstein also contributed stories to Free to Be... You & Me, the precursor to Free to Be... a Family.
Silverstein's final book Runny Babbit: A Billy Sook was award a Quill Book Award posthumously.
External links