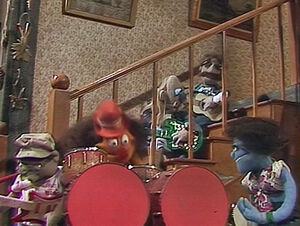 The Shenandoah Muppets appeared in episode 408 of The Muppet Show. Accompanying guest star Arlo Guthrie, these Whatnots were likenesses of Guthrie's band Shenandoah, with whom he toured and recorded from 1975 until the early 1990s.
The band members are David Grover (guitar), Carol Ide (tambourine), Steve Ide (guitar), Dan Velika (bass) and Terry a la Berry (drums).
Only Terry a la Berry's Muppet made a speaking appearance backstage, as performed by Jerry Nelson.