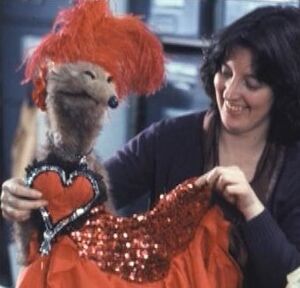 Sherry Amott lent her theater design and production expertise to the Henson Company throughout the 70s and 80s. She was among the many Muppet designers for The Muppet Show and The Muppet Movie, and worked at Jim Henson's Creature Shop on various characters for The Dark Crystal, Labyrinth, and Dreamchild. She was Head of Fabrication of Audrey II for the Frank Oz film Little Shop of Horrors.
Amott worked on Sesame Street as well, creating Linda's pet dog Barkley and designing the outfits for the cover of the famous Sesame Street Fever LP, among other feats.
After "Little Shop of Horrors" Amott married British filmmaker, director and editor John Tippey. Their son Jake was born in London in 1986. Post-Henson she worked briefly as a children's and young adult librarian before moving to Cincinnati to work for Horizon Productions as a producer, and later, Creative Director. Her freelance work included character and costume design and fabrication for theatre, video and interactive projects. She co-produced and designed an interactive CD-ROM and website for artist January Marx Knoop. In 2007 Sherry Amott Tippey became Creative Director at Curtis, Incorporated, a Visual Communications firm in Cincinnati where she enjoys writing, producing, project management, multimedia production and web design.
Sherry sings with the Kentucky Symphony Orchestra Chorale, BACHorale, October Festival Choir, and Voices of Freedom.
Jake is lead guitar, singer and songwriter for The Frankl Project. Recent photos of The Frankl Project opening Riotfest at the House of Blues in Chicago are posted here.
Credits
Designer
Performer
External links