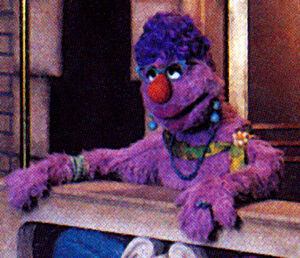 Sherry Netherland is the owner of the Furry Arms Hotel on Sesame Street. No matter what, she always wants to make her guests happy, even if they want raw fish delivered to their room or fifteen elephants rampaging through the lobby. According to the Sesame Street Unpaved book, she rules with "an iron fist, a heart of gold, and a brain of oatmeal."
Sherry first appeared on Sesame Street in Season 25 (1993), when the show went "Around the Corner." She continued to appear through Season 29. She made a return cameo appearance in the 2019 special Sesame Street's 50th Anniversary Celebration.
Her name is a reference to the Sherry-Netherland Hotel in New York City.
While Sherry has disappeared from the show, she popped up in a couple of 2001 storybooks in the "Elmo's Neighborhood" series, including The Furry Arms Hotel and Sesame Street House of Beauty. Illustrations from the beauty parlor book were reused in the 2007 Sesame Street Musical Pop-Up Treasury, which still pictures Sherry, nine years after her last appearance in the show, sitting hopefully in her chair at the beauty parlor.
Filmography
Episodic appearances
Book appearances
See also