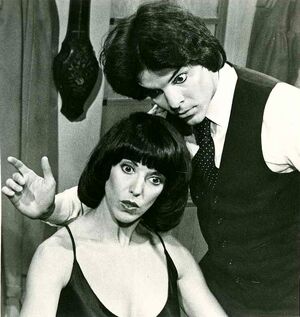 Robert Shields (b. 1951) and Lorene Yarnell (1948-2010) were a husband-and-wife mime and dance act. They were guests on The Muppet Show Episode 403.
Shields and Yarnell were married from 1972 to 1986. They hosted their own TV variety series on CBS from 1977 to 1978.
Shields received his mime and performance art training in Paris, France. He formed a jewelry design company in Arizona after divorcing Yarnell.
Yarnell was a trained dancer and variety artist. Post-divorce from Shields, she later lived in Norway and taught dance. Yarnell also performed the movements of Dot Matrix in the movie Spaceballs while Joan Rivers provided the voice. The duo continued to tour together a couple of months a year until Yarnell passed away in July 2010.
External links