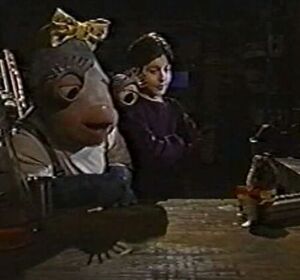 Shining Time Station is a children's television series which ran on PBS from 1989 until 1993, plus additional specials in 1995. The series spotlighted the Thomas the Tank Engine stories (using segments first aired on British TV), surrounded by stories about a train station and its staff and visitors. Mr. Conductor, a tiny pixie-like figure with magical powers, was often at the center and narrated the Thomas stories.
References
In the Aliens in the Family episode "Cookie Makes Some Dough", Heather ends up shrinking from Snizzy's zit remover. She complains that at ten inches tall, she'll never have a boyfriend. Snizzy quips, "We can always fix you up with Mr. Conductor from Shining Time Station."
Muppet Mentions
In the episode "Two Old Hands," Matt receives a Sesame Street magazine in the mail, with Ernie on the cover.
In the episode "Mr. Conductor's Movie," Stacy tells Schemer he should wait until he knows what the director needs. Schemer's response: "Little lady, let me tell you what the director: needs he needs a star name because star names sell tickets! John Wayne, Arnold Schwarzenegger, Big Bird, and now Super Schemer!"
In "How to Have Style à la Schemer" (a "Schemer Presents" vignette for video releases), Schemer does a Kermit the Frog voice when he shakes his mannequin to make it look like it's talking.
Connections
Community content is available under
CC-BY-SA
unless otherwise noted.