PERFORMER
various
DEBUT
1985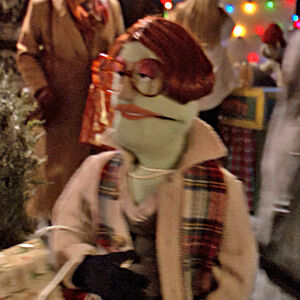 Shirley was a character featured in the Muppet Meeting Films. A bespectacled businesswoman, the puppet was named Shirley in the 1993 short "Now Hear This!" and appeared as Diane Smidlab in the 1993 short "Great Salespeople in History". She also appeared unnamed in "Top Ten Reasons to Take a Break" and "The Meeting That Would Not Die."
In two Good Morning America sketches, the puppet appeared with a different hairdo as Jan Forthright, explaining how to set your VCR and interviewing candidate Gonzo with Howard Straighttalk.
The puppet also appeared on Muppets Tonight episode 106 as the Network Censor. She is briefly seen in the opening of 2002's It's a Very Merry Muppet Christmas Movie, carrying bags with Maxine who calls her "Gladys."
Appearances