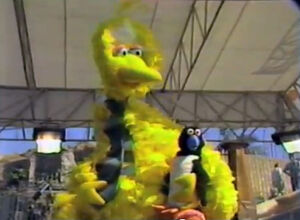 Shivers the Penguin is a penguin friend of Big Bird's who appeared on Sesame Street.
The puppet was designed so that Shivers could be carried by Big Bird or sit on his lap. This allowed Caroll Spinney to perform both characters at the same time, with his left hand manipulating Shivers' mouth while his right hand worked Big Bird's mouth.
Big Bird and Shivers sang a song together in Episode 1735, and performed a live routine for children while on tour in Australia, as seen in Big Bird in Australia. The character has made at least one other live appearance, at the Cleveland Orchestra in 1983.[1]
Shivers was mentioned in a New York Times article on Spinney, "At first, [Big Bird] was supposed to be only an incidental character on the show, but he drew so large a following he was soon one of the major Muppets. Mr. Spinney, meanwhile, took on the additional characters of Oscar the Grouch, Shivers the Penguin and Bruno the Trashman."[2]
The puppet was also used as Zero, and has since made appearances as a background penguin (including Elmo's Christmas Countdown, and in the Episode 4172 song "Six Penguins in my Shirt") and was used as Georges in 5, Rue Sésame.
In Sesame Street Episode 4038, a different penguin (performed by Kevin Clash) appears to listen to a story Big Bird has written. He also appears with Big Bird in the closing scene, where his name is revealed to be "Shivers."
Sources
Community content is available under
CC-BY-SA
unless otherwise noted.