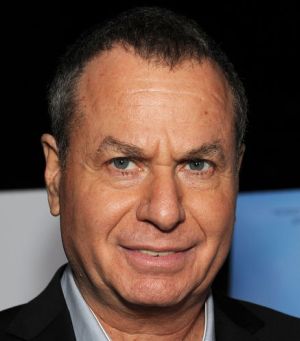 Shlomo Bar Aba (b. 1950; also credited as Shlomo Bar-Aba, Bar'Aba, and Baraba) is an Israeli actor best known for his work on stage and in film. He was the original Hebrew voice of Bert (Benz) on Rechov Sumsum (and its first cast album), as well as Shalom Sesame.
Bar Aba studied drama in Tel Aviv in the 1960s and then performed in the Central Command Band. From 1978 to 1990, he was a regular on a popular sketch comedy series, Zehu Ze ("That's It"), notably playing the Zionist character Jacek. His stage roles include Schweik in The Good Soldier and Max Bialystock in the musical The Producers.
In 2011, Bar Aba starred as an aging Talmudic scholar in Footnote, which received an Academy Award nomination for Best Foreign Language film and netted him a 2011 Ofir award for best actor. His other film credits include Witness in the War Zone (1987, with Christopher Walken) and dubbing Sykes in the animated feature Shark Tale.