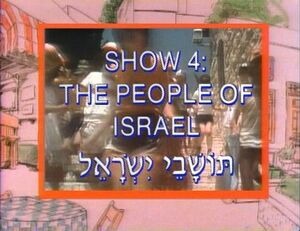 Picture
Segment
Description

COLD OPEN
Itzhak Perlman is playing his violin by Oscar the Grouch, who is enjoying the music, which confuses Itzhak, who asks why he likes it some much. The reason turns out to be his revenge on Grundgetta, who wants it to stop, for touching his trash collection

SCENE 1
Kippi Ben Kippod sees Itzhak playing on a bench. Kippi asks him if he knows any porcupine music. Itzhak doesn't know of any. Kippi asks him what he plays at porcupine concerts.

SCENE 1 cont'd
Kippi remembers when a band came to the street. Leader Natan and friends help Kippi realize that even if he can't play an instrument, his voice can act as one.

Cartoon
"Octopus One-Man Band"

Film
A boy talks about his yeshiva school day.

Muppets
Ernie sings "If I Knew You Were Coming I'd've Baked a Cake" to Cookie Monster.

Cast
Bonnie Franklin introduces the letter hey, which starts har (mountain).

Cartoon
The letter "hay" morphs into a mountain.

SCENE 2
Itzhak plays his violin to some kids, but Moishe Oofnik complains how nice it is. He explains that it is music from the countries where the kids grew up. When nothing pleases Moishe, he plays the first song he ever played, which sounds awful and off-key, but perfect for an Oofnik.

Cartoon
A cat tries to teach the alley cats to play music in harmony.

Muppets
A group of Anything Muppets are afraid of a group of nearby monsters, who don't believe they're scary at all. A brave little girl confronts them to see how nice they really are.

Film
A girl makes pitas for her grandparents.

Cartoon
Country Fiddler # 5
Artist: Bud Luckey

Film
A boy talks about the two different Jews.

SCENE 3
Bonnie talks about "vav" when a little boy brings her a rose, which he calls "vered," but Bonnie thinks he's saying "very red", until she learns "vered" is "rose" in Hebrew.

Animation
A UFO with a Vav lands on a planet with a rose.




Celebrity / Muppets
Mandy Patinkin hosts PMV (Porcupine Music Video) and introduces a song from Kippi's personal collection, Little Jerry and the Monotones singing "Proud."

Film
Kids show how to do "Eni Mini Mini Moe" in Hebrew and Arabic.

Celebrity
Mandy Patinkin and his child recite the aleph-bet, but he only makes it up to "yod" as he forgets the rest.

Animation
A man sees a Hebrew exit sign over a revolving door, but when he tries to get out, he spins back inside. He decides to stick the sign over a window and leave through there.
Artist: Rony Oren




SCENE 4
The cast sings "It's a Small World" in English, Hebrew and Arabic.

Closing
Kippi announces the sponsors.
Releases
Community content is available under
CC-BY-SA
unless otherwise noted.