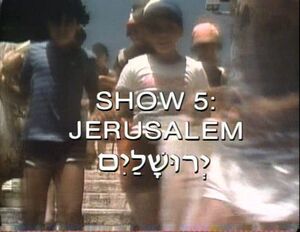 Picture
Segment
Description

COLD OPEN
Itzhak Perlman has to talk quick about the program since Big Bird is building a block wall around Sesame Street, just like the wall in Jerusalem.

SCENE 1
Itzhak describes Jerusalem and how they'll visit it. One of the kids asks him why they're Casria if they're going to Jerusalem. He checks the map and regrets having Kippi drive their jeep.

Muppets
Kippi travels with his friend to Jerusalem to find his friend who has just gotten a new job. Kippi finds out he works at the Knesset, the Parliament. When they meet him there, they take a tour of it.

Muppets
Bert hears the phone ringing inside a basket, and asks Ernie to answer it. Ernie goes through the basket, and finds a banana. He pretends it's a phone, and gives it to Bert to talk to. Ernie answers the real phone, and tells the caller that Bert can't come to the phone because he's talking on the banana.
Bert's dialogue is in Hebrew.

Film
Kids play pretend on statues in the Billy Rose Garden of the Israel Museum.

SCENE 2
Chaim shows Bonnie Franklin a letter "zayin." She asks him to show her some words that start with it. Suddenly, a zevuv (fly) flies around them. The fly turns out to be Moishe's pet, Zevi.

Cartoon
A zevuv

Film
A kid describes how the buildings in Jerusalem are made from Jerusalem stones.

Cartoon
A girl, crocodile, driver, giant and a boy use a door to exit.

SCENE 3
Ofirah takes Bonnie on a tour of Jerusalem.

Cartoon
"Ladybugs' Picnic"




Muppets
Rechov Video
The VJ's guests this time are Itzhak and Moishe Oofnik, who has just written a song the will be premiering after their intro. Every question she asks, Moishe replies with "Me'atzben", which means he's angry. The music video turns out to be "Mad" by Little Jerry and the Monotones, which is no surprise to the host and Itzhak.
English and Hebrew Subtitles added.

Cartoon
Jazz #6

Film
A song about the Kotel, the Western Wall, of the Temple.

Cartoon
A song/story about how messengers came to Abraham to tell him and his wife will have a baby.

Film
Two kids talk about how they're not allowed in a room where their seede, their grandfather, and his friends are there.

Muppets
"Me and Ani"

Cartoon
To the chagrin of an elephant trying to get some sleep, animals say "Shalom!" to him.




SCENE 4
Since Bonnie must return to California, the street residents throw her a goodbye party and sing her a special goodbye song ("Heneih Ba Ha-Shalom").

Closing
Kippi announces the sponsors.
Releases
Community content is available under
CC-BY-SA
unless otherwise noted.