Sid and Marty Krofft are brothers known for producing numerous live-action Saturday morning TV shows in the 1970s, typically featuring colorful costumed characters, puppets, and heavy make-up effects within enchanted worlds.
After building the title characters for the 1968 Hanna-Barbera series The Banana Splits, the Kroffts started their own series in 1969, H.R. Pufnstuf. Similar shows The Bugaloos, Lidsville, and Sigmund and the Sea Monsters followed, while The Land of the Lost presented slightly more dramatic peril. Subsequent shows detoured into comedians trapped in space (The Lost Saucer and Far Out Space Nuts) and more adventure-tinged series minus the costumed critters (as with superheroes Elektra Woman and Dyna Girl), alongside puppet work on an assortment of prime-time variety shows. Later series included Pryor's Place with Richard Pryor, the prime-time Spitting Image inspired D.C.'s Follies (with puppets of politicians and celebrities), and a 1991 Land of the Lost revival series (and other remakes), and a return to children's puppetry with Nickelodeon's Mutt & Stuff.
Sid Krofft was one of the celebrities present at the theatrical premiere of The Muppets.
Appearances
References
An issue of the comic-book tie-in for the Krofft series Lidsville (about a land of giant talking hats) appears on the door of Hooper's Store, along with other cartoon/funny comic titles.
In the Farscape miniseries The Peacekeeper Wars, Crichton makes references to two different Krofft series. In the first half, he refers to Noranti as Witchiepoo (the heavily made-up witch on H.R. Pufnstuf). In the second half, he calls the Scarran leader Emperor Stahleek "Emperor Sleestak" (after the lumbering lizard men on Land of the Lost).
Connections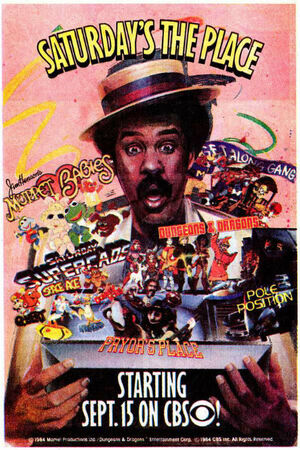 Community content is available under
CC-BY-SA
unless otherwise noted.