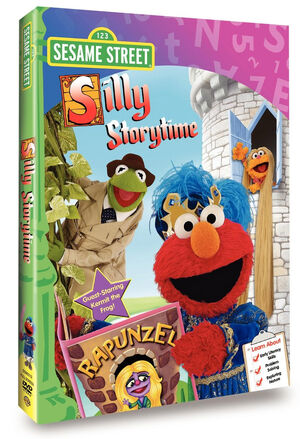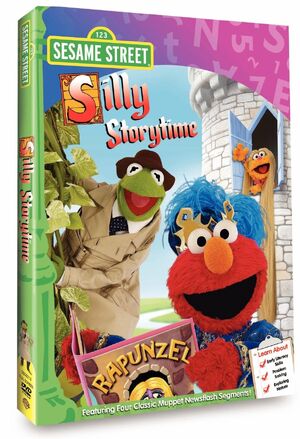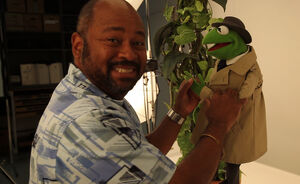 Silly Storytime is a 2011 Sesame Street DVD. In addition to the 47-minute main feature, the DVD also features four classic "Sesame Street News Flash" segments. A special animated story, "A Wish for Grover," is included as a bonus feature.
The cover features Kermit the Frog in a rare occurrence of the character being used to sell Sesame Street merchandise.
DVD features
Notes
In a Muppet Mindset interview, associate design director of special projects Louis Henry Mitchell discussed the process of getting permission to include Kermit on the cover:
"It was not at all easy -- but I never look at things as hard OR easy. I follow my heart and see where it leads me. I didn't have to "goad" Kermit from Disney, although their first answer was a resounding "No!" But their reasons were respectful and absolutely legitimate, which I will discuss later on. I just had to figure out a way to make this work.

The idea came from my friend and colleague Len Forgione, the art director who handles the finalization of the DVD graphic designs after I submit sketches based upon his recommendations concerning the content of the video. When he realized that Kermit was such a huge part of the content he called me and asked me if we could possibly get Kermit from Disney for this cover. The DVD is called "Silly Storytime" and it is made up of spoofs of some of the fairytales featured on Sesame Street. Reporter Kermit did some "Sesame Street News Flash" segments--classic stuff all performed by Jim Henson himself. Len's instinct was correct in seeing if we could get Kermit. My heart immediately aligned with his idea and I started the process.

The first step was to contact my dear friend and the man who runs The Jim Henson Company NYC workshop, Jason Weber. He contacted Disney as the first step. They still have a relationship with Disney, although I am not aware of the full extent of it. Jason put me in touch with the right person at Disney and I made the request for Kermit. After a few days I was told that they would not approve any new photo shoots featuring Kermit as they were preparing for the new Muppet launch in 2011. They wanted and needed to control all marketing and promotion of The Muppets and felt that featuring Kermit, even as the classic Reporter made famous on Sesame Street, would be confusing in the market place as to where Kermit officially belonged. This, as I mentioned earlier, was a totally legitimate and respectable position for Disney to take. But I felt I would not have been doing my job honestly for the fans and the families purchasing the video if I left Kermit off of the cover. So I appealed to Disney from my heart as well as reassured them that the scheduling of the release of our DVD would not conflict with the re-launch of The Muppets. Disney was very supportive and understanding of our genuine need for a depiction of the content being honestly represented. Kermit was the key to the content and really the anchorman -- or I should say the "anchorfrog!"...

Once I accomplished what I envisioned for Reporter Kermit, and Len Forgione did the official layouts with the photography and graphics, we sent it to Disney for their approval, which was part of the agreement. There was a bit of back and forth even at this stage because, again, they did not want to confuse the market and make it look like Kermit was officially still part of Sesame Street. I came up with the idea of putting a starburst on the cover stating that Kermit was a special guest and that served Disney's needs. We got instant approval after they saw that solution.

The one absolute restriction that came from Disney was that we could only feature Kermit as Reporter Kermit -- he had to wear his reporter outfit. We could not feature him as strictly Kermit the Frog. Perfectly understandable for their marketing control needs.[1]"
All four Sesame Street News Flash segments included use the late 1980s/early 1990s masters with the 1986 "NEWS FLASH" logo.
International releases
Sources
Community content is available under
CC-BY-SA
unless otherwise noted.