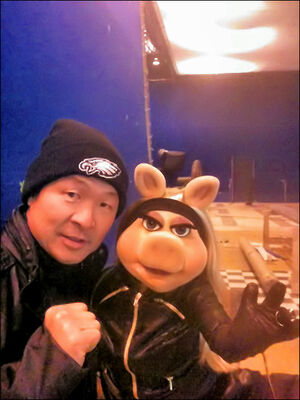 Simon Rhee (b. 1957) is a stunt man and actor who is a 7th-Degree Black Belt in Tae Kwon Do and a 4th-Degree Black Belt in Hap Ki Do. Rhee is billed in The Muppets as a stuntman and served as a sequence fight coordinator, specifically for a scene involving Miss Piggy kidnapping Jack Black.
Among Rhee's many acting credits are appearances on the television series 24 and Lost, as well as feature films such as Lethal Weapon 4 and The Kentucky Fried Movie. As a stunt man and/or stunt coordinator, Rhee has worked on The Dark Knight Rises, Pretty Little Liars, MADtv, Mission: Impossible III and Charlie's Angels.
In addition to teaching at "Simon Rhee Tae Kwon Do" in Woodland Hills, California, Rhees counts Heather Locklear, Jay Leno, Faye Dunaway and Beau Bridges among his former students.
External links