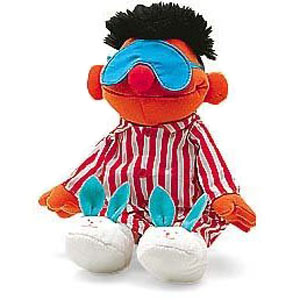 Sing & Snore Ernie is a Sesame Street plush toy released by Tyco in 1997. The Ernie doll wears pajamas and makes snoring sound effects.[1] Over 1.2 million Sing & Snore Ernie dolls were sold in 1997.[2]
While the 1996 Christmas season was dominated by Tyco's Tickle Me Elmo doll, Sing & Snore Ernie became the most sought-after present for 1997. A December 1997 New York Times article described the scene at a New York City toy store:
"

At the Toys R Us in Union Square, there was not an Ernie to be seen last week. But there was a huge pyramid of furry, red Tickle Me Elmos, last year's craze.

"I gave up on Ernie two months ago," said Katherine Kanakis, who was eyeing the Elmos for her 8-month-old nephew, Kyle. "Maybe I'll get an Elmo, but he already seems passe."

Just in front of the Elmo pyramid sat Syrrea Kane of the customer information department. She said that she still got around 100 requests a day for Ernie and that there had been some untoward incidents with disgruntled parents.

"We had one lady who said she wouldn't leave until she had her Ernie," Ms. Kane said. "It was crazy."[3]"
David Letterman referenced the toy in a Top Ten List on the Late Show with David Letterman. During the "Top Ten Surprises in the New James Bond Movie," number 9 was, "Bond's mission: To find the last "Sing 'n Snore Ernie." (sic)
Sources
↑ Borgenicht, David. Sesame Street Unpaved. 1998.
↑ Lewine, Edward. "Confessions of a Sing and Snore Ernie Scalper", The New York Times. December 21, 1997.
Community content is available under
CC-BY-SA
unless otherwise noted.