PERFORMER
various
DEBUT
1977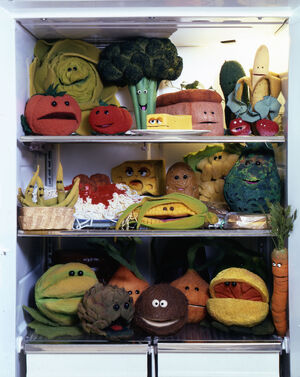 The Singing Food debuted in The Muppet Show Episode 208. This collection of anthropomorphic fruits and vegetables included a tomato, potatoes, scallions, a cabbage, a cauliflower, an asparagus, a cantaloupe, a few bunches of grapes, and a pack of beans, and served as a chorus under the direction of Marvin Suggs. Variations of these food items have since appeared in The Great Muppet Caper, The Muppets: A Celebration of Thirty Years, The Muppet Christmas Carol, Muppet Treasure Island, Mopatop's Shop, and other productions. Other known food types have included the following:
The many Sesame Street fruits and vegetables (notably featured in the song Healthy Food, and the brief introduction to the Healthy Habits for Life segment that aired before every episode of Season 36.) In contrast to the classic Singing Food, Sesame Street's Singing Food has black pupils on white eyes (with the exception of the potato). The tomato and broccoli from this show appeared on Sesame English.
Food characters
See also
Community content is available under
CC-BY-SA
unless otherwise noted.