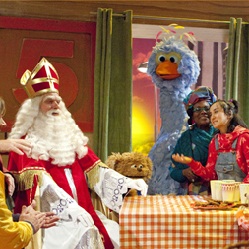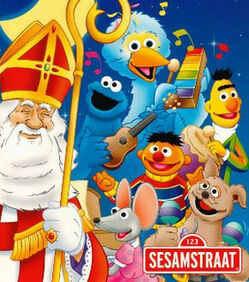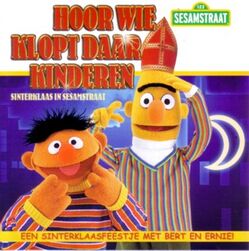 Sinterklaas, also Sint-Nicolaas or just Sint, is the Dutch counterpart to Santa Claus (and in fact, formed the basis for the Westernized Santa). Sinterklaas arrives in the Netherlands in November, generally by steamer from Spain, and celebrates his birthday on December 5th by giving presents to all children. Sinterklaas' traditional attire, while still emphasizing the white beard and red colors, more closely resembles a clergyman, tying into his "Saint" title and roots in the Catholic tradition.
Sinterklaas has figured prominently in many Sesamstraat productions, often accompanied by his friend and helper Zwarte Piet (Black Pete, who in current Sinterklaas lore is one of many, akin to Santa's elves). On the album Hoor Wie Klopt Daar Kinderen, Bert and Ernie, along with a nervous Grover, anxiously await his arrival. He was also heard with the native Sesamstraat characters in the album Sint Is Zoek! (played by composer Ad Wammes).
Beginning in 1987, Sinterklaas has also made annual visits to the television world of Sesamstraat every December 5. In accordance with an agreement by the various Dutch television networks, the current official Sinterklaas on Sesamstraat (and every other television broadcast) is actor Stefan de Walle. He took over the role from Bram van der Vlugt, who played Sinterklaas from 1986 to 2010. Sinterklaas is accompanied in most of these appearances by helpers like Wegwijspiet (played by Michiel Kerbosch), Hoofdpiet (Erik van Muiswinkel), and his horse Amerigo.
Two of the Sesamstraat specials have been released on the DVD Sinterklaas Bezoekt Sesamstraat.
Audio appearances
Book appearances
Video appearances
External links
Community content is available under
CC-BY-SA
unless otherwise noted.