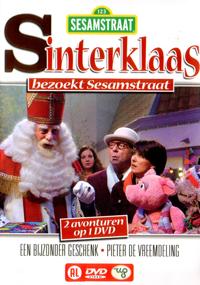 Sinterklaas Bezoekt Sesamstraat (Saint Nicholas Visits Sesamstraat) is a DVD release of Sesamstraat, the Dutch co-production of Sesame Street.
The DVD contains two of the annual half hour Sinterklaas episodes; every year on December 5th, Sesamstraat celebrates this Dutch winter holiday with an extra long episode in which Saint Nicholas visits the street.
This DVD was the 24th Sesamstraat DVD produced by Weton Wesgram (SESDVD024).
"Een Bijzonder Geschenk" (A Special Gift) from 2003 marks the debut of Purk, the new baby piglet on the street. Tommie is jealous of all the attention she gets, and runs away from home, in search of Saint Nicholas. Meanwhile, the Saint is on his way to the street, but his helpers forgot to bring a present for the new baby... In the end, Tommie saves the day by giving away his stuffed crocodile.
"Pieter De Vreemdeling" (Pieter The Stranger) from 2002 is the second special on the DVD. The Head Piet accidentally wraps up the Saint's headwear, and sends it away as a present. He is so ashamed that he decides to runs away and live in Sesamstraat under the name of Pieter. Luckily, Tommie, Ieniemienie and Pino help him fix his mistake.