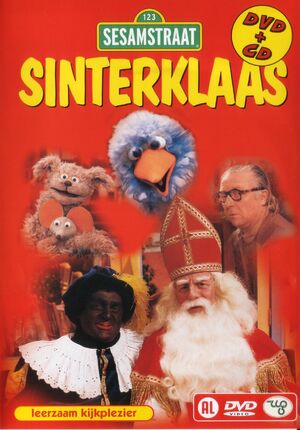 Sinterklaas (Saint Nicholas) is a DVD release of Sesamstraat, the Dutch co-production of Sesame Street.
The original special was called Sinterklaas in Sesamstraat, and was broadcast in 1997.
This DVD was the 11th Sesamstraat DVD produced by Weton Wesgram (SESDVD011)in a series of Sesamstraat DVDs. It was also released on VHS.
The DVD contains the annual half hour Sinterklaas episode; every year on December 5th, Sesamstraat celebrates this Dutch winter holiday with an extra long episode in which Saint Nicholas visits the street. The CD is the same one as Hoor Wie Klopt Daar Kinderen only the tracklisting is mixed and the sketches are left out.
It is almost Saint Nicholas, also in Sesamstraat. All who live there are preparing for the big party where Saint Nicholas will arrive, giving everyone presents. The whole street is decorated and a big special Saint Nicholas-Pie has been baked. Also Saint Nicholas is preparing with his Black Petes. But Pete forgotten to buy chocolate letters, but he had ordered them at Sien's Store. Saint Nicholas sends him to get the letters, but mister Aart had bought up all letters dispite Sien told him she held them back for an important person! Outside the store he foind out that the letters where saved for Saint Nicholas. Because he is a bit affraid of him, mister Aart writes him a letter. Instead of the truth he writes down, that all childeren are affraid of Saint Nicholas and it for the best that he doesn't come this year. But all presents are still welcome.... What shall Saint Nicholas do with this strange letter.. Well gladly he is also stubern and he comes anyway, so he find out the truth and forgives mister Aart.