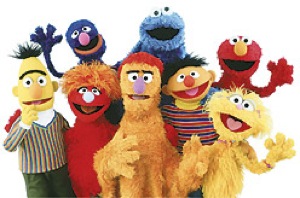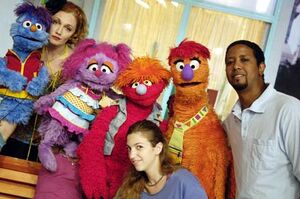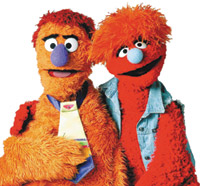 Sippuray Sumsum is the second Israeli co-production of Sesame Street, replacing the older version, Rechov Sumsum, and the previous Israeli-Palestinian co-production. Sippuray Sumsum is the Hebrew translation of the banner title, Sesame Stories, which also encompasses the Jordanian/Palestinian versions, both of which use the Arabic name Hikayat Simsim. It debuted in 2002.
The main characters of Sippuray Sumsum are Noah and Brosh. In August 2006, a new season was announced, with an expanded cast and new Muppet characters. However, the series reverted to the old Rechov Sumsum title when it debuted in December 2006.
Sesame Workshop description
Sesame Workshop and a dedicated group of Jordanian, Israeli, and Palestinian co-production partners have joined together to create Sesame Stories, a multimedia project that promotes messages of respect and understanding to young children in the Middle East. The three separate versions have some unique and some shared elements so that Israeli, Palestinian, and Jordanian children view specific segments formatted to address their specific cultural and linguistic needs. The Israeli production has a special emphasis on the Arab population within Israel. Sesame Stories (Israel), or Sippuray Sumsum in Hebrew, was created, written, and produced by Israeli educators and television professionals. The show combines segments featuring the Sesame Street characters with animation and mini-documentaries to create uniquely entertaining and educational programming. Locally developed characters appeal to preschoolers and engage them with humor relevant to Israeli culture. Animation and live action pieces introduce Israeli children to positive images of themselves and others. The project is funded in large part by the European Union and other donors. Twenty-six episodes of Sippuray Sumsum, co-produced by Sesame Workshop and Zebra Communications air on Hop! TV.
Community content is available under
CC-BY-SA
unless otherwise noted.