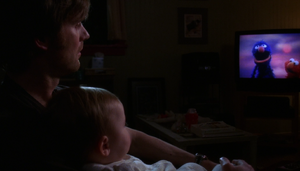 Six Feet Under is an HBO drama series which ran from 2001 and 2005 and focused on the flawed owners of a family-run mortuary.
Mentions
In the episode "Twilight," Nate Fisher and his daughter are seen watching "Red and Blue" on Sesame Street.
References
In a "Number of the Day" segment on Sesame Street, Count von Count calls the series one of his favorite programs. The Sesame Street version is markedly different, however. It shows the feet of three monsters, six feet in all, seated under a table.
Connections
See also