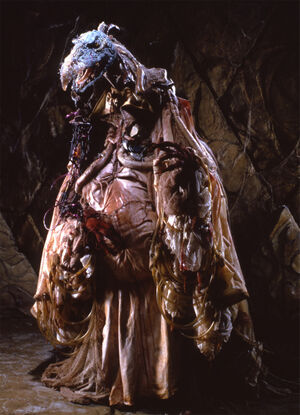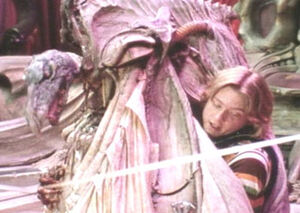 SkekTek is the Skeksis Scientist. He plays an important part in the story, since it is his job to drain captured Podlings and Gelflings of their life essence in his laboratory, the Chamber of Life. This process turns the victims into slaves which perform the work at the Skeksis castle. It has also been stated that the Scientist altered the slaves' vocal cords to fit them for the castle choir. He also later created the Garthim.
Before the urSkeks split, it was the Scientist who gave Aughra the most help in building her observatory. SkekTek's alter ego amongst the good hearted Mystics is urTih the Alchemist.
SkekTek later met his death when the animals in his laboratory retaliated with the help of Kira, pushing him into the shaft of the Dark Crystal where he fell to his death. This also caused the death of his counterpart urTih, who simply burst into flames and vanished.
Steve Whitmire later used a voice similar to SkekTek's for Marlon Fraggle.
In pre-production notes for the film, skekTek, who was also called the Doctor, is "identified by his self-mutilated body, especially an artificial leg and bionic arm. His pale, pink-white neck is held in place by a brace with metal bits, and his body is fed through chrome and plastic tubes. One eye is fitted with a telescopic eyepiece." His eye was eaten by a Peeper Beetle as punishment for Rian stealing the remainder of Mira's essence, though SkekSil was the actual culprit.
Performer
Sources