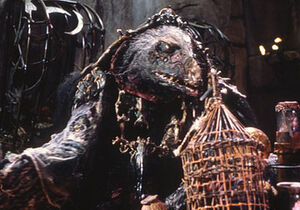 SkekUng is the general of the Skeksis. He commands the Garthim which fight and hunt for the decadent Skeksis, so he's better known as the Garthim-Master. He is a stern, massive, sneering presence, and a natural leader who values anger and brute strength. SkekUng's alter ego amongst the gentle and wise Mystics is urIm, the Healer.
In the pre-production notes for the film, the Garthim-Master is "identified by the sound of his spurs striking on the castle floors and his complete lack of subtlety. The Garthim-Master enjoys tearing apart soft Gelflings for sport." The Garthim-Master is identifiable amongst the Skeksis for its rattling armor, yellow fangs, and bellowing voice.
Upon the death of the Skeksi Emperor skekSo, it is skekUng, the Garthim-Master, that feels confident that his violent strength will earn him the throne. He enjoys the support of skekTek and skekNa.
In The World of the Dark Crystal, Jim Henson stated that the Skeksis started out as based upon the Seven Deadly Sins. SkekUng would represent Wrath.
The original creature resides at The Center for Puppetry Arts in Atlanta.