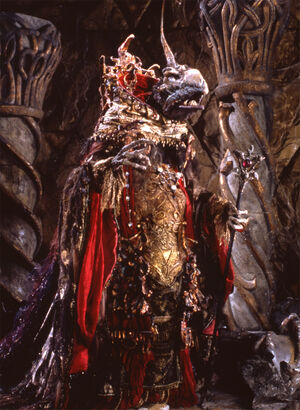 SkekZok is the court Ritual Master for the race of Skeksis in The Dark Crystal. His Mystic counter-part is urZah, the Ritual-Guardian.
The Ritual Master is referred to in production notes and the screen credits as the High Priest. He is the tallest of the Skeksis, with "a skull-like head and hypnotic eyes." The original notes called for a robe hung with ecclesiastical bric-a-brac such as reliquaries and Orthodox icons, as well as a great staff. His movement was to be based on the stylized gestures of Tai Chi.
SkekZok's status ammong the Skeksis was gained through lies and invented prophecies. Upon the death of Emperor skekSo, the Ritual Master finds that the other Skeksis practice their own divinations which they trust above his. It is his ritual dagger which causes the death of Kira the Gelfling.
SkekZok's puppet is on permanent display at The Jim Henson Exhibition at the Museum of the Moving Image.
SkekZok the Ritual-Master thought to hold all control of the life of the court in his own hands. He had the ear of the emperor, whose wishes were absolute; none could hope for sucess except through skekZok. The other Skeksis he sought to control through the prophecies he invented, the false apparitions he conjured. Too late he found that the Emperor raised favorites only to enjoy the pleasure of their fall, caring for them not at all; and that the other Skeksis all practiced their own secret divinations, which they trusted above his.The World of the Dark Crystal
In the Netflix prequel series The Dark Crystal: Age of Resistance, SkekZok is puppeteered by Victor Yerrid and voiced by Keegan-Michael Key.