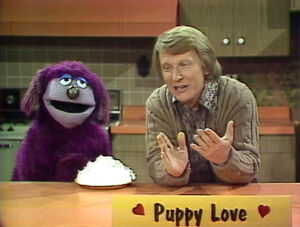 Skip Hinnant (b. 1940) is an actor and voice artist who was part of the repertory cast on The Electric Company, playing J.J., the boy in "Love of Chair," Frankenstein's Monster, and most notably, bungling detective Fargo North, Decoder. The latter helped Sesame Street visitor Big Bird find his way home in a 1972 cross-over skit. In the special Out to Lunch, he reprised Fargo and others, and in cross-over segments with the Sesame Muppets, he performed a Puppy-Love Dessert Chow commercial with a Muppet dog (Jerry Nelson) and played an extra in Cookie Monster's "Kookamonga Kid" skit.
Much earlier, Hinnant had been heard on Sesame Street itself, narrating the live-action insert "There Once Was a Hand." (First: Episode 0007)
Hinnant's Electric Company association extended to albums, including the 1977 record Spidey Super Stories (as Fargo and the villains Moleman, Mr. Measles, and the Jester). Prior to that, he had recurred on The Patty Duke Show as boyfriend Ted (1963-1965) and, in 1967, originated the role of Schroeder in the off-Broadway production of You're a Good Man, Charlie Brown.
However, most of his career has been spent as a New York-based voice actor, most infamously as the title feline in the 1972 X-rated feature Fritz the Cat and its sequel, The Nine Lives of Fritz the Cat (1974). He was also heard in the Rankin/Bass special The Easter Bunny Is Comin' to Town (as Sunny the Easter Bunny), and the 1980 stop-motion feature I Go Pogo (as Pogo and the narrator). Further voice work includes episodes of My Little Pony 'n Friends, the radio series The General Mills Radio Adventure Theatre (1977), and commercials ranging from a prominent Air Wick spot to spokescharacter Teddy Snow Crop for Snow Crop frozen foods. His few post-Electric Company on-camera appearances include guest roles on 3-2-1 Contact and Kate & Allie, as well as the 2006 PBS special The Electric Company's Greatest Hits & Bits.
External links