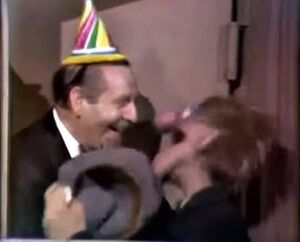 Skitch Henderson (born Lyle Henderson, 1918-2005) was a conductor and pianist best remembered for his work on television. He was the original bandleader on The Tonight Show, first during the Steve Allen run, and then (following a break in the Jack Paar era) for the first few years of Johnny Carson's tenure (1962-1966). During an appearance by Jim Henson and the Muppets on Dec. 31, 1965, a drunken Whatnot singing "Let Me In" is finally let in by Henderson, in a cameo.
Henderson's other on-camera work, apart from bandleading, included sketch work on Steve Allen's Sunday night series (1956-1959) as the proper gent Sidney Ferguson, as well as guest spots on such game shows as To Tell the Truth and Match Game. On radio, Henderson was piano accompanist to Bing Crosby in the late 1940s and orchestra leader for Frank Sinatra's final series in 1950. He founded and led the New York Pops orchestra in 1983.
References
External links
Community content is available under
CC-BY-SA
unless otherwise noted.