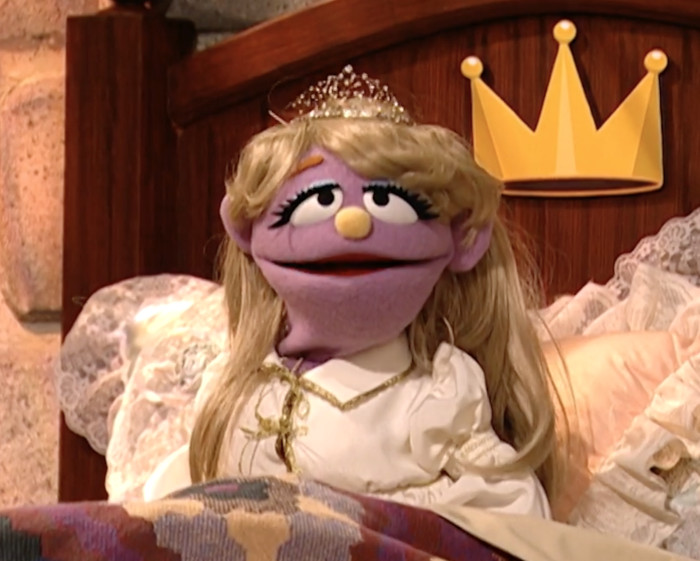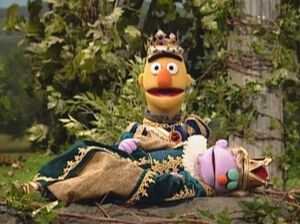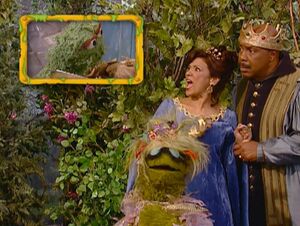 Sleeping Beauty is a classic fairy tale by Charles Perrault first published in 1697, but perhaps the most famous interpretation is Walt Disney's 1959 animated film, which borrowed from the Tchaikovsky ballet.
Muppet Characters
In episode 3777, Bert portrays Prince Charming, who wakes up Sleeping Beauty, but then puts her to sleep again when he starts talking to her about his paper clips. Here, she was performed by Fran Brill.
In an episode of Sesame Street, Prince Charming looks for Sleeping Beauty, finding her sleeping in barrels near Big Bird's nest. After blowing her a kiss, she wakes up, annoyed that the prince had found her; She complains about a lack of sleep, due to Prince Charming always finding and kissing her awake.
References
In a bedtime story he reads for Irvine, Oscar plays the prince who must awaken Sleeping Grouchy, but because he's a grouch, he keeps trying to find an alternative to kissing.
Connections
Carol Kane played the 'Good' Fairy in the Faerie Tale Theatre episode "Sleeping Beauty" (1983)
Bernadette Peters played the Sleeping Beauty/Princess Debbie in the Faerie Tale Theatre episode "Sleeping Beauty" (1983)
Christopher Reeve played the Prince in the Faerie Tale Theatre episode "Sleeping Beauty" (1983)