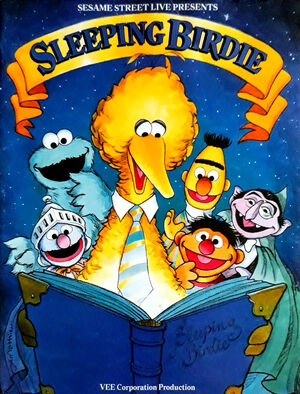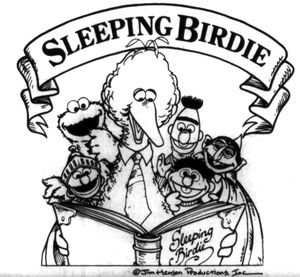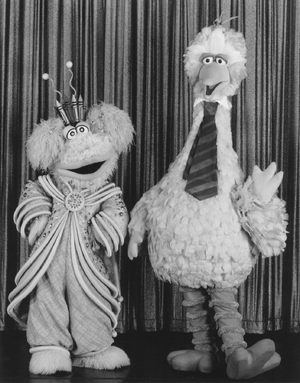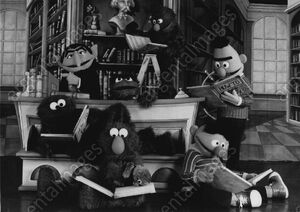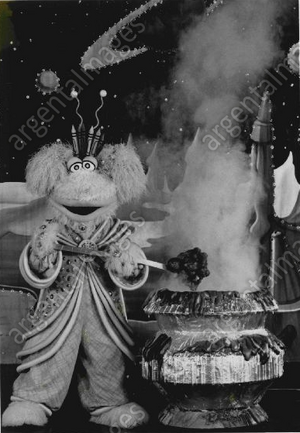 Sleeping Birdie is a Sesame Street Live show first produced by VEE Corporation in 1990. It was repeated in the United States on tours from 1991 to 1994.
Plot
Tee Hee and the Yellow Queen are from the land of Crayon. When they visit Sesame Street, the Yellow Queen is appalled to discover that Big Bird is more yellow than she is. In her jealousy, she casts a spell to make him sleep and plans to cover him with purple polka-dots.
Tee Hee and the Sesame Street Muppets go to the library and discover that a prince or princess must kiss Big Bird to wake him up. Everyone blows kisses at Big Bird who wakes up just in time.
The Queen accidentally gets her polka dot dust on herself and breaks down in tears. Once the Amazing Mumford turns her back to yellow, she finds that she is no longer jealous.
Characters
Big Bird, Bert, Ernie, Cookie Monster, Grover, Elmo, Prairie Dawn, The Count, Oscar the Grouch, Telly Monster, Tee Hee, The Yellow Queen, The Amazing Mumford, Rhoda
Voices
Acts
Act I:
Once Upon a Time
Imaginary Postcards
Eight Balls of Fur
Dancing Crayons
Monsters in the Mirror
The Yellow Queen of Crayon
Landing on Sesame Street
For the Birds
The Spell
Act II:
Big Noise on Sesame Street
Friendship
Rock 'N' Roll Readers
At the Library
Prince and Princess Rap
A Magic Moment
Purple Polka Dots
The Amazing Mumford
Happily Ever After
Songs
Original Songs
"Once Upon a Time"
Lyrics by Norman Stiles and Don Harper, Music by Don Harper
"You're the Best You"; "For the Birds"
Lyrics by Tom Child, Music by Don Harper
"Prince and Princess Rap"
Lyrics by Norman Stiles, Music by Don Harper and Tom Calderero
"Big Noise from Sesame Street"; "Happily Ever After"
Lyrics and Music by Don Harper
Music
"The Peppermint Twist"
"Marian the Librarian"
Credits
Executive Producer: Vincent E. Egan
Produced by Bob Shipstad
Written by Norman Stiles
Directed and Choreographed by Diane Arnold
Art Direction by Jim Waters
Music Direction by Don Harper
Lighting Direction by David Agress
Character design by Jim Henson, Donald Sahlin, Caroly Wilcox, Kermit Love, Michael K. Frith
New Sesame Street Live Characters designed by Jim Henson, Michael K. Frith
Costumes designed and built by Jim Henson Productions, Inc.

Design and supervision of construction: Connie Peterson
Assisted by Tom McAlister, Michelle Matland, Jason Weber, Fate Kreinberg, Don Creech
Additional costumes designed by Julie Zobel
Mechanical animation by Mae Canaga, Marilee Canaga

Vocal Recording Coach: Dave Conner
Program — Sesame Street Illustrations by Joe Mathieu
Note
As this production opened following Jim Henson's death, the show's program features a page dedication to Henson. Though the text does not directly mention his passing, the page quotes a letter Henson wrote that was read at his memorial service. This dedication was also included in the show program for Let's Play School.
"Since 1955, when he began his career with a local puppet show on a television station in Washington, D.C., Jim Henson's name has become synonymous around the world with all that's best in family entertainment. Audiences of all ages are enchanted, enriched and inspired by the joyful magic of Sesame Street, The Muppet Show, Muppet Babies and Fraggle Rock. Beloved by millions, his furred and feathered, goggle-eyed and gap-toothed creations are as familiar to us as our own friends and families, and just as real.

Creativity, not commercialism, was always foremost in Jim's thoughts. He created the worlds he wanted to explore, hoping that we would want to come along, too. And we did. And along the way we have all learned so many things — about our world, about ourselves, about the inexhaustible opportunities life brings.

Jim had many gifts, but perhaps the greatest was the one he left us all, the realization that dreams really can come true.

Please watch out for each other and love and forgive everybody. It's a good life, enjoy it."
External links
Community content is available under
CC-BY-SA
unless otherwise noted.