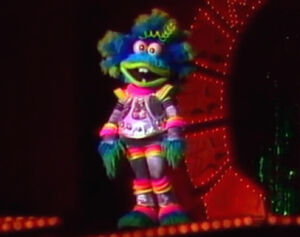 Sleeping Birdie is a Sesame Street Live show first produced by VEE Corporation in 1990; it was repeated the following year.
Plot
Tee Hee and Queen Yellow are from the land of Crayon. When they visit Sesame Street, Queen Yellow is appalled to discover that Big Bird is more yellow than she is. In her jealousy, she casts a spell to make him sleep and plans to cover him with purple polka-dots.
Tee Hee and the Sesame Street Muppets go to the library and discover that a prince or princess must kiss Big Bird to wake him up. Everyone blows kisses at Big Bird who wakes up just in time.
Queen Yellow accidentally gets her polka dot dust on herself and breaks down in tears. Once The Amazing Mumford turns her back to yellow, she finds that she is no longer jealous.
Cast
Big Bird, Tee Hee, Super Grover, Bert, Ernie, Elmo, Cookie Monster, Prairie Dawn, the Count, Oscar, [[Grundgetta], ]Telly, The Amazing Mumford, Queen Yellow, Green and Yellow Honkers, and Rhoda.
Credits