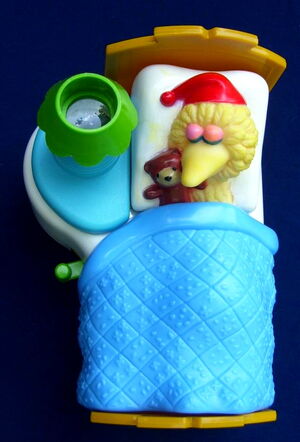 Sleepy Time Pictureland is a Sesame Street baby toy made by Illco in 1989 and 1990. It was also sold under the name "Lullaby Pictureland".
The Pictureland projector was made in the shape of a slumbering Big Bird, sleeping in a cozy bed and holding on to his teddy bear, Radar. When the projector is switched on, it plays "Brahms' Lullaby" for six minutes, and projects illustrated images from a transparent disc onto the ceiling. There are three interchangeable discs, each with a different theme.
One disc has Sesame characters posing with letters of the alphabet and objects that begin with that letter -- Big Bird has birds and bugs, Ernie has an elephant and an egg, and Grover has a goat.
The second disc has the characters acting out fairy tales, including "The Tortoise and the Hare", "Goldilocks", "The Three Little Pigs" and "Jack and the Beanstalk".
On the third disc, the characters act out nursery rhymes, including "Baa Baa Black Sheep", "Sing a Song of Sixpence" and "Jack Be Nimble".