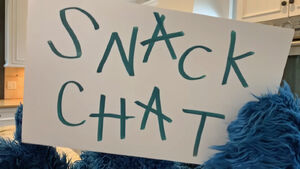 Snack Chat is Cookie Monster's self-produced video series posted to Sesame Street's social media. Cookie supplies his own title card and theme music and instructs the viewer how to prepare, and consume, their own snacks. At the start of early installments, Cookie advises viewers to wash their hands before snacking.

Image
Title / Description

Share a Cookie with Cookie Monster (March 31, 2020)


Cookie breaks out his favorite "sometime" snack and shows how to properly savor and eat it. (YouTube)

Make a Smoothie with Cookie Monster (April 7, 2020)


Cookie suggests making a smoothie when lacking other snacks. He demonstrates how to make one and, after gulping his down, gets brain freeze. (YouTube)

Try Hummus and Carrots with Cookie Monster (April 27, 2020)


Cookie is hesitant to try hummus (a food he's never eaten before), and after several failed attempts, he has a small taste and finds that he likes it. (YouTube)

Fruit Snack Challenge (May 25, 2020)


Cookie Monster's Mommy gives her son a banana and instructs him not to eat it until she comes back. Cookie struggles to distract himself from eating the banana, but his mommy returns just in time with some milk. (YouTube)

Sweet Potato Cake (November 18, 2020)


Cookie is joined by his "foodie" friend Gonger and special guest Carla Hall, who turns out to be a big fan of Gonger's and mimics his catchphrases. Carla shows how to properly eat a sweet potato cake. (YouTube)

Chicken Tenders with Ranch Dip (December 2, 2020)


Cookie, Gonger and Carla show off their dipping skills. (YouTube)
See also
Community content is available under
CC-BY-SA
unless otherwise noted.