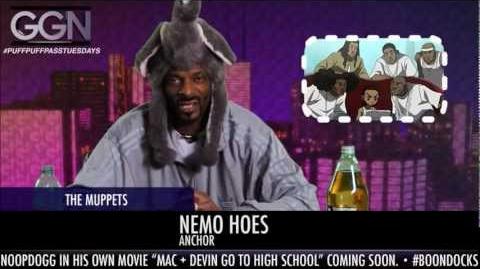 Calvin Cordozar Broadus, Jr. (b. 1971), also known as Snoop Dogg, Snoop Doggy Dogg and Snoop Lion, is an American hip-hop emcee, record producer, and actor. Snoop is best known as an MC in the West Coast hip hop scene.
Snoop Dogg filmed a celebrity cameo scene for It's a Very Merry Muppet Christmas Movie. Snoop Dogg's brief scene, in which he interacted with Kermit and The Electric Mayhem backstage in The Muppet Theatre, was removed from the final cut of the 2002 telefilm by The Jim Henson Company and NBC, and was also absent from the DVD release, which included other deleted scenes.
According to a press release published on Henson.com:
"As commonly occurs during this stage of production, we have had to cut several scenes originally planned for the movie which did not advance its storyline. Unfortunately, one of the scenes we have had to cut was a brief appearance by the talented artist Snoop Dogg. We are very proud of this TV movie and are confident that it will be a highlight of the holiday season.[1]"
However, according to many media reports, the motives for cutting Snoop's scene were not simply time constraints. Reporters stated that producers had extra incentive to cut the Snoop footage when protest arose over mixing a hardened hip-hop artist with classic children's characters.
Conservative radio show host Larry Elder, FOX News Channel's Bill O'Reilly, and Project Islamic Hope's Najee Ali led a protest threatening an NBC boycott over the inclusion of Snoop Dogg in the family film.
Najee Ali argued that the emcee was unfit for family television fare stating:
"I grew up watching the Muppets. They are very precious to me—those memories of watching [them] as a child, Now I have children and want them to feel that way, too... There are plenty of other hip-hop artists that they could have chosen rather this guy. He was the very worst choice.[2]"
Kermit himself was quite frank about the matter in a guest appearance on The Late Late Show on November 22, 2002. Host Craig Kilborn quizzed him about the situation. Kermit's response was as follows:
"Well, I think that kinda what happened was, that, uh, Snoop came along to do our movie at about the time that he was, like, quitting drugs...? Unfortunately, he was starting porn.... Yeah...it's really nothing personal, because, porn's fine, you know, but it's not what we do in a Muppet movie, and...and he's a really, he's a very nice guy, I mean, I really liked him, we had a lot in common—Frog, Dogg, you know... And it's no dis, homey. If you're watching. It's no dis.[3]"
Snoop's involvement in producing pornographic films included a contribution to the Girls Gone Wild franchise.
Writer Jim Lewis described the cut scene in a 2007 Q&A:
"Here's how I remember it. We come upon Kermit and Snoop backstage talking in that patented Snoop patois (e.g. 'Off the hizzle f'shizzle...etc.'). Surprisingly, Kermit is fluent in this lingo and has his own Frog Pound. We then see the Electric Mayhem band sitting nearby. Floyd Pepper asks a typically insightful question, something along the lines of: 'Didja ever think that maybe the whole world is a molecule on the big toe of some giant in the cosmos?' To which Snoop gives a long (and to me) totally confusing answer just brimming with 'hizzles' and 'f'shizzles'. Floyd, Animal, and the rest of the band nod sagely and then Zoot says a line that was ad-libbed on the spot: 'Man, that's the first thing around here I've understood in 30 years.'[4]"
References
Sources
External links
Community content is available under
CC-BY-SA
unless otherwise noted.