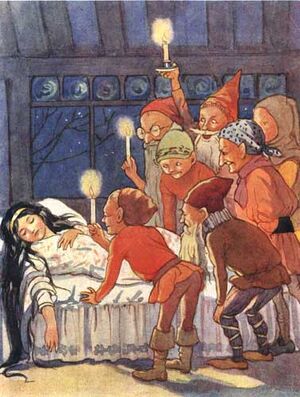 From Karen Falk, the Jim Henson Company Archivist:[1]
"

In 1965, Jon Stone and Tom Whedon came up with the idea of a television series based on a mixed-up version of a fairy tale told over a season of Saturday mornings. They planned to do Snow White and sold the concept to CBS, which commissioned a script. Familiar with Jim Henson's Muppets from variety shows and commercials, they signed him on to work on the show. Jim was thrilled as he loved Disney's Snow White and wanted to try his hand at it.

The network eventually passed on the show, so they took the script over to ABC who loved it. ABC asked them to change it to Cinderella, however, because CBS had originally commissioned the Snow White story making it somewhat 'tainted' (according to Jon Stone). The half-hour pilot was shot that October but never aired.

Resurrecting the idea three years later, they managed to sell it to ABC in the form of a one-hour special, Hey Cinderella!, which was filmed in October 1968 and finally aired on April 10, 1970."
See also
Sources
Community content is available under
CC-BY-SA
unless otherwise noted.