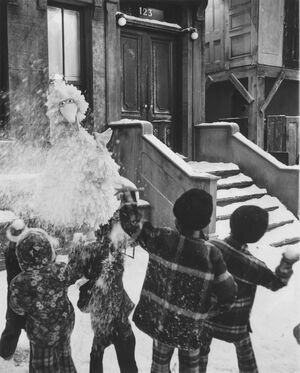 "Snow on Sesame Street" is a Sesame Street story arc that took place over several episodes in Season 5 (1974).
During the first two weeks in September of 1973, the Sesame Street set was dressed with snow to accommodate the taping of a dozen episodes set during the winter time. The scheduling block was organized this way primarily to best utilize work done by the production staff in manufacturing fake snow and incorporating other winter elements into the set and props.
Like the story arc in the previous season that centered around this theme, the string of episodes aren't so much of a narrative arc as a thematic one, but most of the Street scenes revolve around the snow or winter weather in some way. The typical winter activities include snowball fights, sledding, skiing, and dressing for cold weather.
Four of the episodes were released as part of the second volume of Sesame Street Classics in 2012. They were later joined by several others that began streaming on HBO Max in May of 2020, with a handful more added before the end of the year (just in time for winter in the northern hemisphere).

Episodes
Picture
Description

Episode 0592

---

Big Bird greets the viewer, noting that today is a particularly cold one on Sesame Street. The cast is dressed in warm clothing and the anticipation of coming snow is in the air. Oscar the Grouch tries to fool everyone into thinking a blizzard is on its way, and just as they begin to humor him, snow really begins to fall.

Episode 0593

---

The snow is coming down heavily now prompting Big Bird to make observations about the weather, and Bert uses winter apparel to play a round of "Three of These Things". Oscar uses the opportunity, and Bob's goodwill, to trick his neighbor into getting covered in snow, and Cookie Monster stays warm inside Hooper's Store making his own brand of peanut butter.

Episode 0594

---

The episode begins with a panning shot of a barren Sesame Street covered in snow, stopping for Luis and Mr. Hooper to jump up in surprise. Grover is smitten with an icy lady figure who he's determined to warm up (until he realizes his folly), and Big Bird locks Luis out of the Fix-It Shop when he doesn't want to accompany him on an errand to stay out of the cold. After Mr. Hooper, Oscar, and Cookie Monster prepare for a snowball fight, the episode ends with everyone pelting Oscar with snowballs in his can while he meekly announces the sponsors.

Episode 0595

---

As she grew up in Puerto Rico where it doesn't snow, Maria is excited to try skiing for the first time, but she's having trouble getting around in the long skis. The weather doesn't keep Sherlock Hemlock away from Big Bird's nest, nor does it keep Prince Charming from seeking out his love.

Episode 0596

---

The continuing snow evokes some confusion in Big Bird when he thinks he can order it to fall in reverse. Maria can't believe her eyes when, for a split second, she thinks the snow may have complied with Big Bird's instructions. When Gordon clears the snow on the steps of 123 Sesame Street, it inspires Oscar to imagine an elaborate situation the involves hurt and panic transpiring upon those who traverse the slippery steps. David gets a visit from a traveling magician (played by Caroll Spinney), and Maria and Luis sing about how the snow is unlike the places where they come from.

Episode 0597

---

The snow has stopped by now, but there's still no lack of it covering the street. As the city's public works department begins their cleanup, it causes delight in Oscar who enjoys how muddy the snow becomes, and frustration in Susan whose Volkswagen is twice covered in snow by a passing plow. Bob plays a sorting game with the kids using some shovels, and Big Bird eventually finds the right tool to help Susan dig her way out of the snow bank.

Episode 0598

---

The fallen snow provides a canvas on which letters can be drawn, and Bob sings about how pleasant he finds the snow (although his neighbors don't share the sentiment). Wintry items are used to play another sorting game, Oscar enlists David's help to cover his entire face with a hat, and the kids have built a snowman in the yard.

Episode 0599

---

With snow still in plentiful abundance, Maria and the kids build another snowman in front of Oscar's trash can and play around with its mouth to change its expression. Biff orders some drinks to keep he and his coworkers warm, Oscar tricks Maria into wearing torn gloves that are useless in the cold, and everyone finds words that rhyme with snow.

Episode 0600

---

As the camera finishes following footprints in the snow all over Sesame Street, Big Bird attempts to mail a snowball to his cousin in Florida, but Maria stops him before he can drop the package in the mailbox. Oscar starts up a Dial-a-Grouch service thinking it will be a miserable service, but when David and Maria call it up to complain about the problems they're having with the cold weather, Oscar replies with far worse situations that make the callers feel better. After David builds a duplicate of a snowman, he takes the kids on a sleigh ride down the street.

Episode 0601

---

Everyone on Sesame Street is doing their best to keep warm, and Big Bird finds himself looking for someone to keep him company as the light of day begins to diminish. Neither Luis nor Oscar are available to play, but Susan invites Big Bird over for dinner, having already procured his favorite food: bird seed.

Episode 0602

---

When it starts to snow again while Susan is shoveling, she expresses how fed up she is with the relentless weather and heads back inside. Determined to find a better way of clearing the snow, Big Bird dons a pair of swimming trunks and pulls an oversized sailboat down the street. Susan is amazed to find that her work has been done for her. After David builds a pair of snowmen and talks to the kids about their differences, Bob makes walks down Sesame Street reading a newspaper, oblivious to the rigorous snowball fight happening around him.

Episode 0603

---

Bob has changed his tune about the cold weather, so he imagines himself sunbathing in the summer. Meanwhile, Maria has spotted Oscar wearing her hat, and he's refusing to give it back. After several elaborate attempts to reacquire the hat, it's revealed that Oscar wouldn't give it up because his barber gave him a pleasant-looking haircut. Maria finally talks him into returning the hat and reciprocates the gesture by mussing up his hair again.

Episode 0604

---

Snow remains on Sesame Street even as the piles begin to melt. The arrival of any new snowfall is replaced by precipitation in the form of cookie crumbs that fall on David from a stratosphere-situated Cookie Monster who has taken a hot air balloon ride in order to eat his cookies in peace.