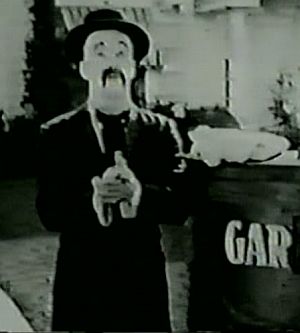 Snub Pollard (born Harold Fraser; 1889-1962) was a silent film comedian. The droopy-moustached Pollard acted as foil to the likes of Charlie Chaplin and Harold Lloyd (in the latter's Lonesome Luke shorts) before appearing in his own series. His best known solo short is the 1923 film It's a Gift, playing an eccentric inventor who drives a cucumber-shaped "magneto car," using a giant magnet aimed at other vehicles to carry him along.
In the sound film era, Pollard transitioned to supporting roles, notably as Tex Ritter's sidekick in several Westerns, but most often as an extra or bit player in B-movies and more high-profile projects like Miracle on 34th Street (carrying mail into the courtroom), The Kid from Brooklyn with Danny Kaye, Singin' in the Rain (as the passerby who Gene Kelly hands his umbrella to), The Day the Earth Stood Still, and The Errand Boy, and in nostalgia roles as silent film-era comics in The Perils of Pauline and Man of a Thousand Faces.
References
Footage of Pollard from It's a Gift was prominently featured in the first Little Muppet Monsters episode "In the Beginning." Gonzo, reporting on weird innovations around the globe, describes the work of Dr. Arnold Flutesnoot (actually Pollard) and his answer to high gasoline prices. Several excerpts from the short are featured, notably Pollard pulling a trashcan out from under a resting policeman.
External links