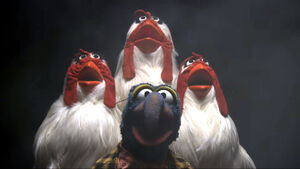 Soapbox Films is a California-based production company established in 2002.
Since 2008, the company has been producing the Muppet viral videos for YouTube. In addition to the viral videos, they also assisted in the production of the presentation pilot for ABC's The Muppets and the 2015 Warburtons advertisement.
They've also worked on live events, notably The Muppets Take the Bowl and The Muppets Take the O2. Soapbox's creative director/vice president Andrew Williams and staff writer Matthew Barnette co-scripted both shows with Kirk Thatcher and Jim Lewis, and Williams co-directed with Thatcher.
For Muppets Now, Soapbox staffers received credit as story team members, including Marcos Gabriel (executive creative director), Matthew Barnette, Noah Smith (creative executive assistant to CEO), Joanna Truman (creative director), and Jamilyn Rosales (creative coordinator).
Productions
External links