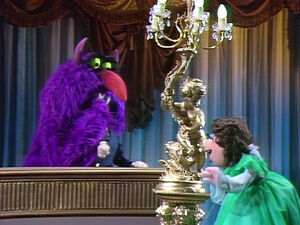 "Some Enchanted Evening," the popular standard from the Rodgers and Hammerstein musical South Pacific, is a song about love at first sight. It has been performed and referenced by the Muppets on several occasions.
referenced during the "Octopus' Garden" sketch on the March 1, 1970 appearance. The Octopus that keeps interrupting the song with bad puns tells the following knock-knock joke:
Octopus: Knock knock.
Clam: Who's there?
Octopus: Salmon.
Clam: Salmon who?
Octopus: "Salmon-chanted evening..."
Referenced on Hey, You're as Funny as Fozzie Bear. A comedy bit similar to the one from The Ed Sullivan Show features the punchline "Sam and Janet Evening" instead of "Salmon-chanted evening."