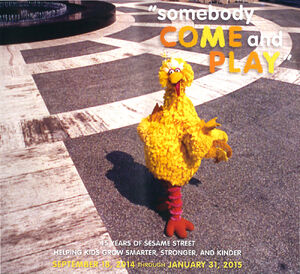 Somebody Come and Play: 45 Years of Sesame Street Helping Kids Grow Smarter, Stronger, and Kinder is an exhibition housed by the New York Public Library for the Performing Arts at Lincoln Center. The exhibit was open from September 18, 2014 to January 31, 2015.
Celebrating the 45th anniversary of Sesame Street, the exhibit features behind the scenes photos, videos, character designs, props and costumes, as well as puppets of certain characters (including Oscar the Grouch, Count von Count, Cookie Monster, Big Bird, Elmo, Zoe, Ernie, Bert, Hoots, Snuffy, Super Grover and the cast of Sesame Tree).
In conjunction with the exhibit, several events were also held within Lincoln Center's facilities.
Events
Muppet Master Class (September 19, 2014)
with Martin P. Robinson and Annie Evans
Family Day! (October 13, 2014)
Making Learning a Funny Affair (October 16, 2014)
with Bobby Moynihan, Eric Jacobson (with Grover and Bert), Joey Mazzarino (with Murray Monster), Christine Ferraro, Carol-Lynn Parente and Rosemarie Truglio
with Nadine Zylstra, Martin Robinson and Annie Evans
The Adventures of Elmo in Grouchland screening (November 19, 2014)
A Digital Playground (November 20, 2014)
On the Street Where You Learn: The Intersection of Broadway and Sesame Street (January 5, 2015)
Muppet Vault: Sesame Street at Lincoln Center (January 22, 2015)
presented by ToughPigs.com
External links