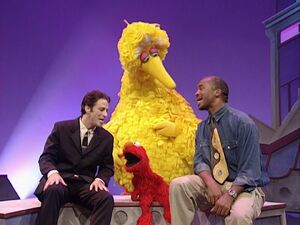 "Songs" is a classic Sesame Street song about music.
Crystal Gayle and Big Bird sing "Songs" in a Sesame Street insert and on the album Sesame Country. The same year, the duo performed a slightly abridged version of the song on Country Top 20.
Big Bird later sang the song on Hee Haw accompanied by Slim Pickens, Roy Clark, and Buck Owens.
Jon Stewart and Elmo sing "Songs" for the closing number of Elmopalooza. It brackets a medley which consists of "Rubber Duckie" (sung by Ernie), "C is for Cookie" (sung by Cookie Monster), "I Love Trash" (sung by Oscar the Grouch), "ABC-DEF-GHI" (sung by Big Bird), and "The People in Your Neighborhood" (sung by Bob and the cast). On the soundtrack to that special, Elmo sings the song by himself, with no medleys of other songs.
Sugarland performed the song with Elmo over the end credits of Kids' Favorite Country Songs; the same segment first aired on Sesame Street in Episode 4149.
The cast sang this at the 2008 Macy's Thanksgiving Day Parade, accompanied by Lang Lang.
Releases
Audio
Video
Stage