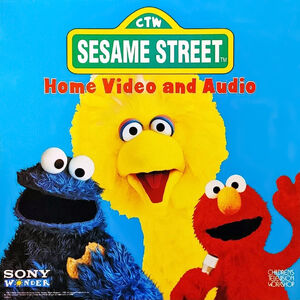 Sony Wonder was the children's division of Sony Music Entertainment. It was the distributor of Sesame Street albums and videos from 1995 to 2007.
Many new titles were introduced into Sesame Street's home video and audio lines, and most would be rereleased thereafter by other distributors. Several audio titles are reissues of albums previously released by Columbia Records, Sesame Street Records, and Golden Music, with most featuring different cover artwork and altered content. Sony Wonder also rereleased much of the show's library of video titles previously distributed by Random House Home Video, and continued their line of book and tape sets, including reissues of titles from Golden Books. The label also released two volumes of Dog City, and the soundtrack from Muppets from Space.
In 2007, after Genius Entertainment gained the video distribution rights to Sesame Street, Sony Wonder was nearly shut down by Sony Music in order to focus on its core music business.[1] Instead, ownership was transferred to Sony's main home video division, Sony Pictures Home Entertainment.[2] Under this new ownership, Sony's final video releases of The Wubbulous World of Dr. Seuss, which were repackaged box sets of earlier DVDs, carried the Sony Wonder label.
Album releases
Video releases
Sources
See also