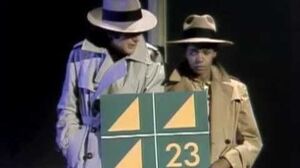 A recurring teaching element in Sesame Street is the concept of identifying and arranging items that are the same and different. Since its inception, the show has done this with multiple songs — referred to in scripts as a "Sorting Song", a "Selection Song", or a "Classification Song" — usually presented as a game.
The situation consists of displaying four items either on some kind of display board, or by using the television frame itself. Three of the items are similar, while the fourth doesn't match the others.
Two songs featured on the show are distinct both in musical composition and lyrics, while asking two different sides of a similar question.
The first song introduced to accompany this game was featured in the premiere episode. The singer informs the viewer that "One of These Things" is not like the others and asks them to identify which one doesn't belong. In contrast, a song introduced later in the season, inverts the conditions by pointing out that "Three of These Things" belong together and asks which one of the group doesn't belong.
A third song abandons the restriction of one item in four being different from the others (or three being the same in contrast to a fourth), and instead allows the singer to announce "Here Are Some Things" without the constraint of a set number of items.
The "Multiple Classification Song" is a fourth variation that asks a bit more from the player in that it requires an analysis of multiple objects that are already sorted.
A similar style game, "Same/Different Song", presents the viewer with a set of items and asks them to identify how they are different and the same.
Community content is available under
CC-BY-SA
unless otherwise noted.