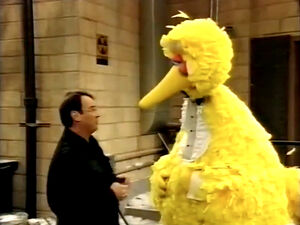 Soul Man was an ABC sitcom which ran from 1997 to 1998. The series starred Dan Aykroyd as Episcopal minister Rev. Mike Weber.
In the episode "The Stan Plan," which aired on February 10, 1998 as part of the network's "sweeps" programming, Caroll Spinney guest starred as Big Bird. The plot revolved around Rev. Mike trying to get tickets to take his son to see Big Bird conduct the Boston Pops, with the help of his army buddy Stan (John Goodman), while at the same time Mike and Stan try to attend a Rolling Stones concert.
The end of the episode takes place at the backstage door of the auditorium, where Big Bird manages to get Stan's son a backstage pass. When the kids meet Big Bird, Mike admits to being a huge fan, telling Big Bird that he loves his "alphabet song", and recalling the time that he went fishing for Wolfgang the Seal. Mike also mentions believing that Mr. Snuffleupagus was real, until Big Bird points out that it's important to take turns (so he can talk to the kids). The bird and the kids file into the backstage door, with Big Bird knocking his head on the doorframe.
Newspaper reviews and television promos emphasized Big Bird's appearance over Goodman's.
Connections
Community content is available under
CC-BY-SA
unless otherwise noted.