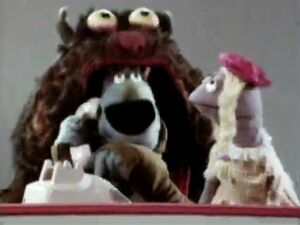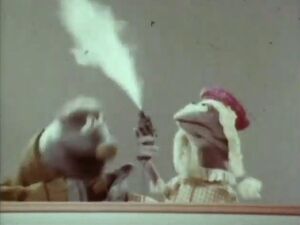 Muppets, Inc. produced five 10-second TV ads for Southern Bell Telephone, a Florida-based telephone company, in 1966. Mack and Suzy appear in these ads, along with Big V.
Mack first appeared in Claussen's Bakery and McGarry's Sausage ads with Kermit. In 1965, Mack was paired with Suzy, a young girl character, in ads for C & P Telephone Co. of VA (1965-1968). Some C & P Telephone ads were remade for Southern Bell.
In one Southern Bell ad ("Monster"), Suzy approaches as Mack is dialing the phone.
Suzy: "What-cha doin'?"
Mack: "I'm dialing long distance."
Suzy: "Didja dial 1 first?"
Mack: "No!"
Then a huge long-nosed monster (Big V) appears, and swallows Mack whole. The monster chews as Suzy calmly explains:
Suzy: "Strange things happen to people who don't dial 1."
List of titles
Attention
Blow Up
Boo and Hiss
Nice Things
Monster
Community content is available under
CC-BY-SA
unless otherwise noted.