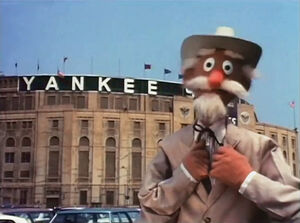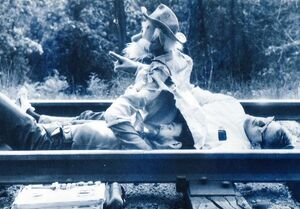 Sixteen commercials featuring the Southern Colonel were produced between 1965 and 1966 for Southern Bread. The commercials are thought to be the first examples of the Muppets filming on location and are a series of eight-second, one-gag spots.
In each commercial, the Southern Colonel would say "I'd do anything for Southern Bread…" and would then proceed to perform an extreme act, such as jumping out of a window, driving north and meeting a polar bear, or going to Yankee Stadium. Most spots also included a twist at the end, such as the Colonel deciding he likes Yankee Stadium (because the fans are yelling "Let's murder the Yankees!") or the Colonel jumping out a window only to magically float back up ("because Southern Bread won't let you down"). One spot included a professional archer shooting an apple off of the Colonel's head. Another had the Colonel explaining how he would even "go to the moon for Southern Bread," only to have his rocket ship explode during blast-off ("'Course, it's easier to get Southern Bread at your grocery store! it's in the bag."). Another had him playing football and scored a goal when he kicked a package of Southern Bread (Southern Bread scores again!).
List of titles
(acquired from a visit to the Henson Archives by Muppet Wiki)
Desert
Elephants
Football
Gorilla
Jet Plane
Locomotive
Mountain
Never Lets You Down
Paid to Loaf
Rocket Ship
Shot from Cannon
Swim It
Terrible Thing
See also
Community content is available under
CC-BY-SA
unless otherwise noted.