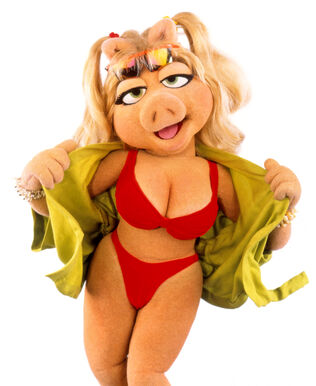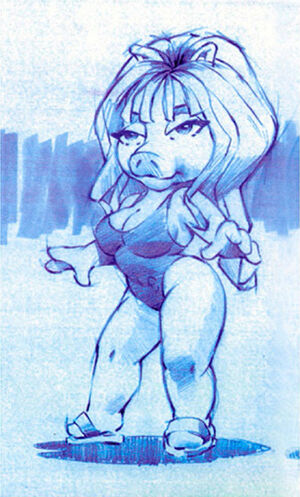 Spamela Hamderson is a buxom female pig first seen on Muppets Tonight.
Spamela is a parody of actress Pamela Anderson, star of TV's Baywatch, while her name is also a nod to the meat product Spam. Appropriately, Spamela was primarily seen in the recurring Muppets Tonight sketch "Bay of Pigswatch." Other notable appearances on the series include her portrayal of the titular "Firefly" in episode 106 and her frenetic dance with Ernest Pleth in episode 107. She makes a cameo in Muppets Most Wanted.
Spamela makes a cameo in episode 19 of From the Balcony, in which she walks past the "Beach House" (a thinly decorated balcony) at the end of the episode, her beauty prompting Statler and Waldorf to rush off the balcony in a contest to get to her. In an "outtake," she dances in the balcony with the critics, causing Waldorf to have heart and back problems.
Spamela appears as the titular character in the Muppet Snow White comic.[1] Jesse Blaze Snider didn't want to use Miss Piggy in a boring role. At one point, Snider chose the character to lead a pitch for Muppets: The Bachelorette.(YouTube)
Merchandise
Spamela was featured in Scents and Sensitivity and Frumpy Old Men parodies in the Muppet Parodies 1998 Calendar.
References