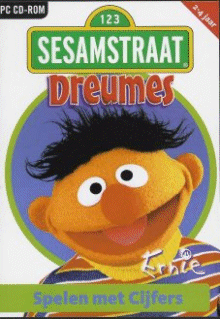 Spelen Met Cijfers: Je Kunt Rekenen Op Sesamstraat (Playing With Numbers: You Can Count On Sesamstraat) is a Sesamstraat CD-ROM game for home computers developed by Mindscape and Sesame Workshop. Elmo leads players through Sesamstraat. It's a straight street with some buildings and houses. Everywhere, there are object that change or move when clicked upon. There's also an occasional counting activity with Elmo, and players can visit Bert and Ernie, Neef Jan and Graaf Tel.
In every house there is a book, television, radio and a telephone. With these objects. players can hear a story, see a short cartoon from Sesamtraat, hear music or call one of the other characters.
Contents
"Ordering": At Bert and Enrie's apartment, the player must search for Bert's paperclips. They are hidden behind coloured objects.
"To add and subtract": At Graaf Tel's place, players count things and point the right number.
"Counting and reconize numbers": Elmo wants a gift. You have to collect the right amount of presents.
"Far and Near": Neef Jan has hidden his birdseed. The player must find it, while Jan tells you whether you are close or far away from the seed.
See also