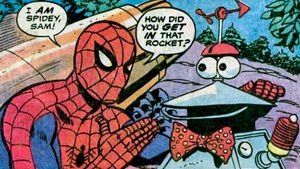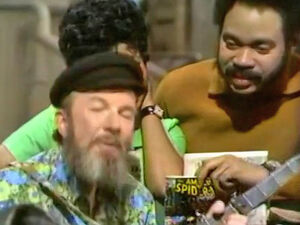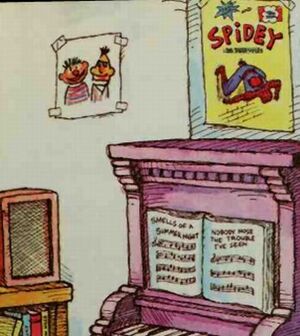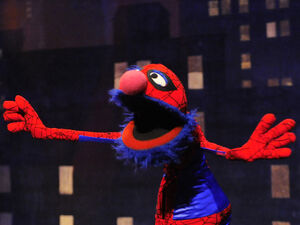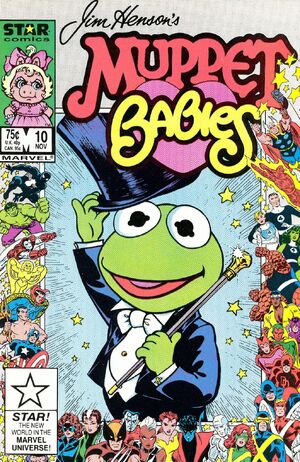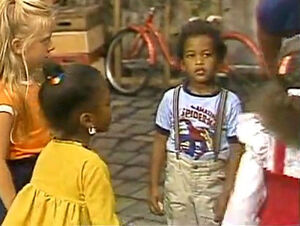 Spider-Man is a comic book character created by Stan Lee and Steve Ditko for Marvel Comics in 1962. Spider-Man is actually the superhero identity of the seemingly ordinary photographer Peter Parker. He received a bite from a radioactive spider, transforming him into an amazing superhero with web-spinning abilities and "Spider-sense" that warns him when danger is near. The comic book later spawned a live-action television series, multiple animated series, and several feature films.
In December 2009, The Walt Disney Company acquired Marvel Entertainment (the parent company of Marvel Comics), placing the Spider-Man character under the same ownership as The Muppets.
Appearances
Spider-Man guest starred in the Muppet Babies episode "Comic Capers," produced by Marvel Productions (whose logo, seen at the end of each Muppet Babies episode, also featured a CGI Spider-Man). Baby Rowlf and Baby Skeeter entered the Spider-Man newspaper comic, and attempted to foil bank robbers. They only succeeded in irritating Stan Lee, in a live-action cameo, who pointed out there was only one Spider-Man. The closing gag featured Baby Animal and Baby Gonzo disguised as Spider-Man, with Animal on top wearing the mask, until they collide with a building and Gonzo falls from the bottom of the costume.
References
At the end of Episode 0670 of Sesame Street, Big Bird, caught in a series of string, remarks that he feels like Spider-Man.
The Big Bad Wolf quotes a motto made famous in Spider-Man comics of the 1960s in Sesame Street Episode 4044: "With great power comes great responsibility."
In Tales of a Sixth-Grade Muppet, an illustration of a Spider-Man comic book is seen, and Danvers' sister Chloe once posted a video of him wearing Spider-Man underwear.
A parody sketch from Sesame Street Episode 4273 features a spoof of Spider-Man: Turn Off the Dark, where Grover portrays "Spider-Monster" and keeps falling on Mr. Johnson (a reference to the well-publicized stunt failures of the show's previews). Bono (a spoof of the play's co-composer) appears as a stage hand.
Muppet Mentions
Peter Parker processes some photos in The Amazing Spider-Man #266 (July 1985) and wonders to himself what to do about his Toad problem. After he says, "I still don't know what to say. What can I say, except..." the TV cuts to a frame of Kermit the Frog singing, "Bein' Green."
The Amazing Spider-Man #598 (Aug 2009) features a panel of Spider-Man talking to Sue Storm while holding Venom's mask as he says, "Alice Cooper is locked backstage with Gonzo and his caroling cluckers! Where's Kermit?" In Venom's voice, he replies, "We ate his brains. Wokka Wokka! [sic]."
The first time Miles Morales discovers he has wall-crawling abilities, as seen in Ultimate Comics Spider-Man #2 (Nov 2011), is in his bedroom. The wallpaper moulding in the room is decorated with Kermit the Frog's head as a repeating pattern. In the following issue, the Kermit motif is absent from the wall design.
During the climactic battle in the 2017 film Spider-Man: Homecoming, Spider-Man (Tom Holland) shouts, "Hey, Big Bird!" to get the attention of the avian-inspired Vulture (Michael Keaton).
Speaking on the January 20, 2019 episode of The Q&A with Jeff Goldsmith podcast, Spider-Man: Into the Spider-Verse writer/director Rodney Rothman compared Spider-Ham/Peter Porker to The Muppet Show's resident comic: "It's like Fozzie Bear; when you have a character that's joke-joke-joke, it can get annoying real fast."[1]
Connections
Sources