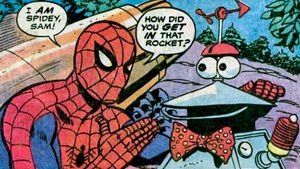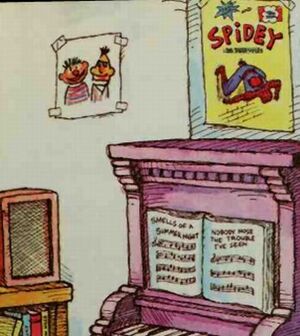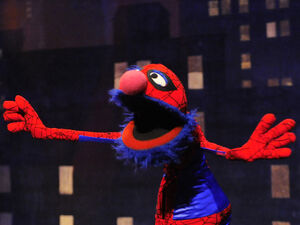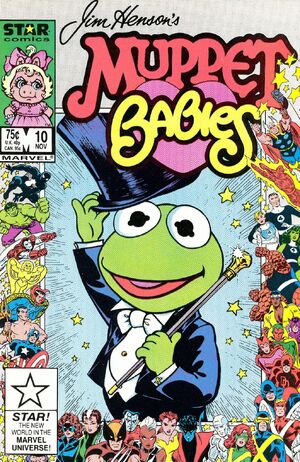 Spider-Man is a comic book character created by Stan Lee and Steve Ditko for Marvel Comics in 1962. Spider-Man is actually the superhero identity of the seemingly ordinary photographer Peter Parker. He received a bite from a radioactive spider, transforming him into an amazing superhero with web-spinning abilities and "Spider-sense" that warns him when danger is near. The comic book later spawned a live-action television series, multiple animated series, and most recently, a successful film franchise.
During most of the run of The Electric Company a live-action version of Spider-Man was featured in a regular segment.
In December 2009, The Walt Disney Company acquired Marvel Entertainment (the parent company of Marvel Comics), placing the Spider-Man character under the same ownership as The Muppets.
Appearances
The Marvel comic Spidey Super Stories tied in with The Electric Company and Spider-Man's appearances on the show. Issue #31, "Star Jaws," featured a Star Wars parody in which Sam the Robot made a special appearance, billed as "Sam, the Sesame Street Robot." Filling the roles of both C-3PO and R2-D2, Sam sought Spider-Man's assistance in an intergalactic war. Other issues of the series included Sesame Street cameos or references.
Spider-Man guest starred in the Muppet Babies episode "Comic Capers," produced by Marvel Productions (whose logo, seen at the end of each Muppet Babies episode, also featured a CGI Spider-Man). Baby Rowlf and Baby Skeeter entered the Spider-Man newspaper comic, and attempted to foil bank robbers. They only succeeded in irritating Stan Lee, in a live-action cameo, who pointed out there was only one Spider-Man. The closing gag featured Baby Animal and Baby Gonzo disguised as Spider-Man, with Animal on top wearing the mask, until they collide with a building and Gonzo falls from the bottom of the costume.
References
At the end of a 1974 episode of Sesame Street, Big Bird, caught in a series of string, remarks that he feels like Spider-Man.
The Big Bad Wolf quotes a motto made famous in Spider-Man comics of the 1960s in Sesame Street Episode 4044: "With great power comes great responsibility."
In Tales of a Sixth-Grade Muppet, an illustration of a Spider-Man comic book is seen, and Danvers' sister Chloe once posted a video of him wearing Spider-Man underwear.
A parody sketch from Sesame Street Episode 4273 features a spoof of Spider-Man: Turn Off the Dark, where Grover portrays "Spider-Monster" and keeps falling on Mr. Johnson (a reference to the well-publicized stunt failures of the show's previews). Bono (a spoof of the play's co-composer) appears as a stage hand.
Muppet Mentions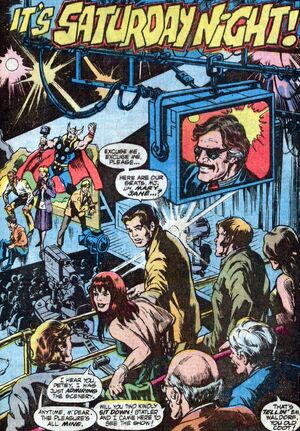 In Ultimate Spider-Man #1 (2000), Miles Morales has a Kermit the Frog wallpaper.
In the 2017 film Spider-Man: Homecoming, Spider-Man (Tom Holland) shouts, "Hey, Big Bird!" to get the Vulture's (Michael Keaton) attention during a fight.
Speaking on the January 20, 2019 episode of The Q&A with Jeff Goldsmith podcast, Spider-Man: Into the Spider-Verse writer/director Rodney Rothman compared Spider-Ham/Peter Porker to The Muppet Show's resident comic: "It's like Fozzie Bear; when you have a character that's joke-joke-joke, it can get annoying real fast."[1]
Connections
Sources
Community content is available under
CC-BY-SA
unless otherwise noted.